October 14th, 2004
---
11:08 am - one of my favorite pics of us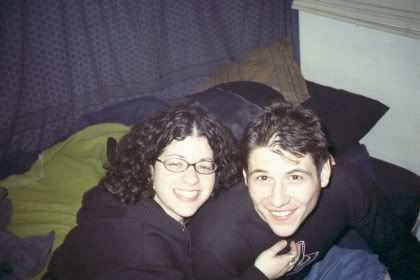 this night was rockin!
we are sitting on Sean Skeffington's bed at an infamous Marisa party last winter.
Current Mood:
loved
Current Music: 99 red balloons

September 24th, 2004
---
02:08 pm - Dear Stomach - be nice. i'm trying here.
today is Yom Kippur. Tonight i will go to shul and repent for all of the bad, mean, manipulative, cruel, unjust, terrible wrongs i have done with and without a conscious knowledge of such actions.
i will be fasting until tomorrow night.

A public apology to all those i have wronged. I AM SORRY.
i am sorry if i did not live up to the expectations i had communicated.
i am sorry if i made you feel bad.
i am sorry if i manipulated you to make the situation better for me.
i apologize for being a baby.
i apologize for being mean or mean hearted.

on Rosh Hashana it is written and on Yom Kippur it is sealed.
(the book of life).
on Rosh Hashana G-d writes who will be sick and who will be well, who will live and who will die.

in the fashion of being me, i feel like i have not reflected enough, or repented enough. tonight i will think about everyone in my life, hope that they can forgive me for wrongs i have done to them and wish for them a happy, healthy and loving new year.

to Rico. you are so far away and i would prefer to do this in person, but i can do it the same via LJ.
i apologize for any wrongs i have done to you and look forward to the best chapter of our lives.
i love you baby. happy new year.
Current Mood:
thankful

02:06 pm - you know, it's true!
I am Strength
Strength represents patience and compassion. Getting angry is easy when events turn sour, but dealing calmly with frustration takes great strength. So does accepting others and forgiving mistakes. We need strength to mold situations softly. The Chariot controls through mastery and authority. Card 8 is more subtle, even loving. Notice how the lion (itself a symbol of strength) is being guided and tamed by the woman's gentle hands.
For a full description of your card and other goodies, please visit LearnTarot.com
---
What tarot card are you? Enter your birthdate.

September 20th, 2004
---
08:48 pm - CALL ME
Rico, call me, i want to make sure your burn is treated properly.

10:17 am - Quick 4 day weekend update
Thursday, services, gym, mope around.
services were disappointing, gym was HARD, went to susie and craig's for dinner. drove aunt betty home. heard how WONDERFUL michael and roni are. they are the most AMAZING children on earth. so thank goodness for them. where would we be without this remarkable 7 and 3 year old?
Friday, rain. rain. rain. rain. rain. gym. rain. rain. rain. sleep.i spent too much money on Yuppie food at Whole Foods just because i like to shop.
Saturday, get up at 8am, let dog out, go back to sleep until 11am. clean up cat pee. Go to gym, Kristen's wedding, home. it was pretty cold that night.
Sunday, go to gym. take Chowder pup to emergency vet for 3 hours, find out he's got an ear infection, have them drain his anal glands - yea! - just kidding - ewww. go to dad's. watch the puppies run around and have fun. grill. eat. eat more. chill. go home.
today, gym, work.

what i didn't do:
-Clean
-Subs
-Take digital pics
-replace burnt out light bulbs (i'm too short)
-cook

basically, i've been a slug.
RICO - COME HOME.

ok, enough pitifulness. i'm getting on task. i'm getting pumped.
i'm going to get some serious work done this week.
i've got the dentist tonight, stich and bitch tomorrow, annual meeting wednesday, dinner at bubbie's thursday, fasting for yom kippur friday to saturday, services saturday and sunday is for CLEANING.

best conversation of the weekend:
Laura (calls me on cell) - what are you doing?
Me - (breathless) I'm on the stairmaster
Laura - oh, cause i wanted to see if you wanted to get a bagel with me
Me - nope. i'm up and out already.
Laura - oh. well i need to exercise too.
Me - ok.
Laura - so i guess you won't meet me.
Me - no.
Me - it's heating up here, got to go.
Laura - ok. bye.
Current Mood:
determined
Current Music: Candy

September 15th, 2004
---
01:31 pm - now, i'm sad and missing you
no lunch call. now i'm getting teary. i call you like 85x a day. i've tried to call you twice already.

11:28 am - happy new year
I will be thinking about everyone and wishing my family and friends and their families a happy, healthy and sweet new year.
with love.

i'm sure as the holiday moves on, i'll talk more about my feelings regarding what i've done over the past year, the kind of person i've been and the kind of person i want to be.

also, i'll be giving thanks for all of the happiness, health and prosperity that i have enjoyed over the last year.

i am thankful that my family had a good year and that my friends are well.
Current Mood:
grateful

09:28 am - holy crap batman
So i had dinner at Fridays last night at 9:30 (after moping around the house) with Troy and Andrea. Who walks in? but JTP. Jesse the Pear. w/ his mom. they sat to the right of us.

so Troy, Andrea and I tell funny Glenn stories the whole time.

I CAN'T BELIEVE YOU DIDN'T TELL ME how the puddle got in the cup holder in the car that caused you to almost break your brand spanking new phone.
DRIVING ASLEEP does NOT equate with DUMPING 2 BOTTLES OF WATER ON MY CAR SEAT. i mean, what the fuck man? what were you thinking? couldn't someone else drive? do you have to drive while sleeping. UGH. you will give me a heart attack, i swear. 2 BOTTLES OF WATER ON YOUR HEAD AND MY CAR - you are NUTS, COMPLETELY NUTS.

Troy clotheslined dreads in the throat at practice and i heard there was the funniest, stupidest 6man tag team match with Chaz, Mav, White Stripes, etc. i almost wish i had seen that instead of the practice i sat through on monday.

Troy related to us how pissed you got when he gave you regular coke and how you'd have to go home and run thanks to him. :)

Andrea asked how weird it would be if you and I had babies when "uncle" norm and her aunt had babies. i don't even understand what would make her think of that???? i think she has a baby-tracked mind.

i'm sure as the day goes on i'll remember more stories.
oh, btw, you have to tell me what to do about a picture and resume for that envelope in the trunk. you took the picture out and didn't replace it. what else needs to go in that package?

today is the day before New Years. So, my dad hasn't gone to the doctor yet, of course, and there is honey cake and fresh baked cookies galore in the lunch room.

Chowder slept pretty much on my head last night. i think he wonders where you are. i charged the camera battery last night, so i should be getting to those picture updates today.

before andrea and troy got to fridays, i got all teary eyed missing you and called Laura so that anything she could possibly say would make me feel better. it did.
she told me how trashy the one girl from the bachelorette party was and how there were actually two dicks whipped out at that bar and the trashy girl - dating Kristen's cousin's ex-husband who is 40 years old and she is 26, and has 3 kids and came to the bar with Kristen's cousin - weird - actually licked one of them.

also, kristen called Josh from the White Eagle, woke him up and made him come out to meet them, when he did, all the girls wanted to do at that point was go to Parmanti's for sandwiches. he wondered why he came out. so do i.

what else???? i went to the gym this morning. only got in 30 minutes, but will take Chowder for a walk and did the same yesterday. i feel bad when he's stuck inside all day without visits from you.

no student loan check yet.
17 days till you come home.
i thought you'd be gone for 14, WTF?
Current Mood:
amused
Current Music: dancing with myself, billy idol